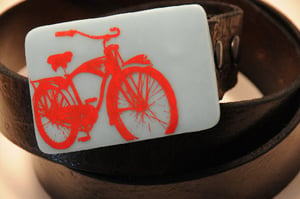 $

60.00
Image 1: Bike
Image 2: Crow
Image 3: Camera
Image 4: Robot
These are just the buckles only.
Belts not included.
Belts are easy to locate as the buckle is made for a snap version belt as seen in image 5.
2 1/4" x 3 1/2" by 1/4" thick
silkscreened fused glass
About:
Kiku is a small company (read: it's just me, Laurie Freivogel) located just outside Chicago, Illinois. While I have been creating ever since I can remember (remember latch-hook rugs?), I started fusing glass, and my business 'Kiku', in 2004. I have two small kids and felt a need to be home with them, but was going crazy with both an art background and nothing to do or make. In March of 2004, my friend Kristine took me to an indie-craft fair/store DEPART-ment, and I was so inspired by the beautiful work I saw from companies like ADORN, I'm Smitten and Red Glow 1500, that I went and bought a kiln and taught myself how to fuse glass.